Responsible business and people
Everyone should have an equal and fair opportunity to fulfil their potential.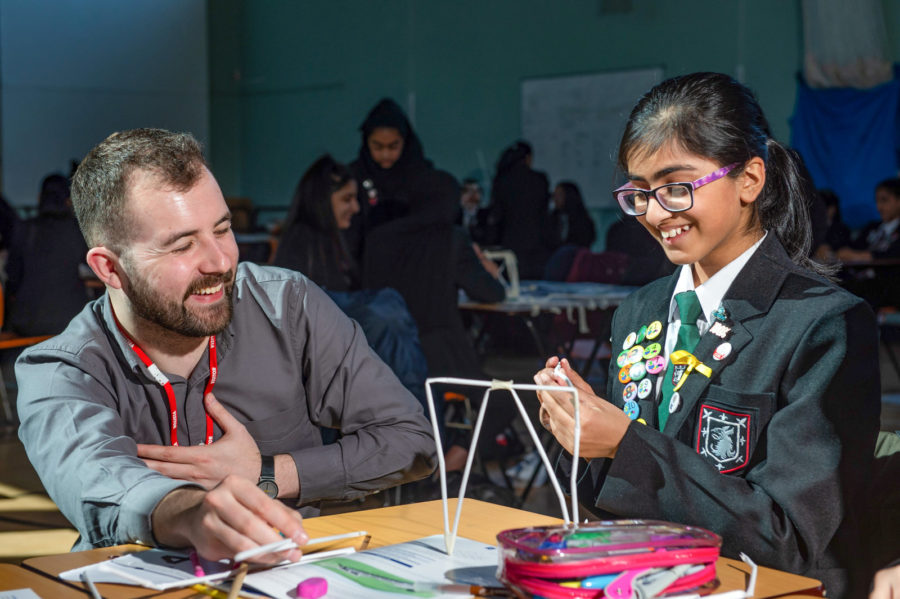 The HS2 project is delivering many different benefits for people.
Our Skills, Employment and Education (SEE) activities are crucial to achieve this, leaving a legacy of a highly skilled and diverse workforce.
We are making sure HS2 is inclusive and accessible to everyone. Our Equality, Diversity and Inclusion initiatives are innovative and effective.
Our Health and Safety culture is setting new standards, raising the bar for how to build major projects in the UK.
Skills, employment and education
HS2 provides a fantastic opportunity to create new jobs, up-skill our existing workforce and create a brand new industry in high speed rail for Britain to export around the world. Our Skills, Employment and Education (SEE) activities are crucial to achieve this. They will leave a legacy of a highly skilled and diverse workforce able to deliver HS2 and future infrastructure projects. As of the end of 2018, more than 7,000 people were employed to work on High Speed Two.
At peak construction, 30,000 people will be needed to design and build the railway.
These job opportunities will be across the country, not just along the HS2 route. HS2 will also support some 2,000 apprenticeships during the life of the project, with over 240 already employed on the project.
We work with schools, with our supply chain and through partnerships with organisations such as the Job Centre Plus and the Social Mobility Foundation. Together, we are helping people from across our communities, including those out of work for some time, to develop their skills and benefit from HS2. Since Royal Assent, over 250 people previously out of work have found employment on the project. We're also working with the National College for High Speed Rail  and regional stakeholders including Combined Authorities and local enterprise partnerships (LEPs).
You can find out more by reading our Skills, Employment and Education Strategy.
Equality, diversity and inclusion (EDI)
Making sure HS2 is inclusive and accessible to everyone is central to the way we work. As part of our design phase we are working with train users to help build a railway that is accessible and inclusive to all.
Our work on equality, diversity & inclusion is organised under four themes: organisation, supply chain, communities, and design and operation.
Because of our EDI policy approach at HS2 Ltd, we are surpassing industry averages for gender, ethnic and disability diversity.
We are aiming for 60% of our supply chain to be with SME firms.
To help spread the benefits of the project, we are aiming for 60% of our supply chain, by the number of contracts, to be with Small and Medium-sized Enterprises (SMEs). Our Meet The Supplier events  link our main contractors with potential subcontractors. Currently over 70% of our contracts are with SMEs.
HS2 Ltd has gained recognition as a Level 3 Disability Confident Leader from the Department for Work & Pensions. The Disability Confident scheme aims to help employers successfully employ and retain disabled people and those with health conditions.
We have won numerous awards for our EDI work, including:
Public Sector Overall Winner at the ENEI Awards 2017
The Top Employer Award at the Women in Rail Awards 2018
The Corporate Champions Award at the 2018 REACH Society Awards, for our work inspiring young BAME people into careers in infrastructure
MSDUK and ENEI Inclusive Procurement Awards 2017 & 2018 which recognise HS2's UK leading approach to inclusive procurement and supplier diversity
Gold Award TIDE Benchmarking 2018
VERCIDA No 1 Gender Inclusive Employer Award 2019
Health and wellbeing
Our aim is to create a new standard of safety through our 'safe at heart' culture where no one gets hurt. This prioritises the health and wellbeing of those who build, operate, use and host HS2 services and infrastructure.
We will set new health and safety standards.
We are raising the bar for how to build major projects in the UK.
Building HS2 will affect the lives of thousands of people along the line of route. In partnership with our contractors, we are working hard to look after the public who live and work near to our sites. We are treating local people with respect and are protecting their health and quality of life by strictly limiting noise, air pollution and traffic congestion.
For our employees we have wellbeing plans that provide resilience and mental health training for staff. We have a network of health and wellbeing champions across the company. We are also working with Rethink Mental Illness , HS2 Ltd's employee chosen charity.
Following a recommendation from the Phase 2a Select Committee we are undertaking analysis of the impact of the construction and operation of Phase 2a, including on mental health and wellbeing.  We are also putting in place an advocacy, support and wellbeing service for stakeholders.
You may also be interested in