Estimated Reading Time

4 minutes
Interchange
Interchange serves Solihull, Birmingham Airport and the NEC.
Phase:

'Phase 1'

Map Link:

Work Items Map Link: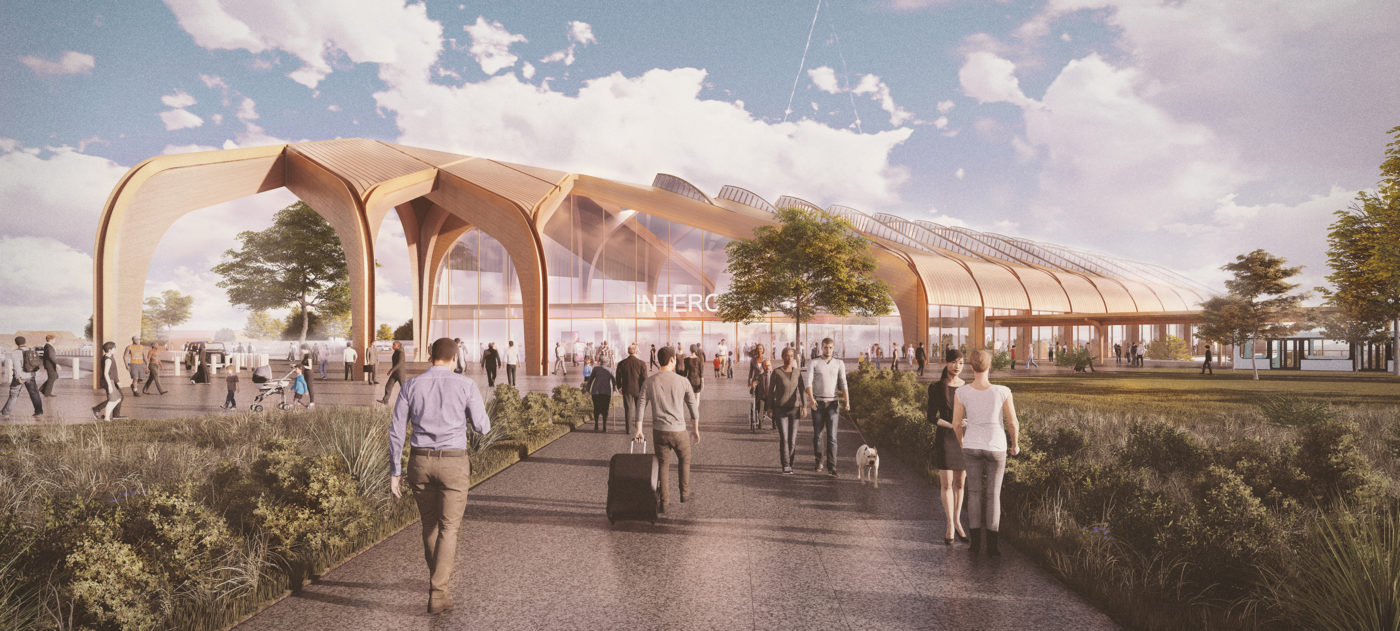 The West Midlands is at the heart of the new high speed network
HS2 will bring the West Midlands within an hour's commute of Manchester, Sheffield, Leeds, London, York, Preston and Wigan.
HS2 Services in Solihull
Interchange to:
East Midlands Hub, HS2 time 17 minutes
Manchester, HS2 time 37 minutes, current time, 106 minutes
London, HS2 time 38 minutes, current time, 70 minutes
Leeds, HS2 time 46 minutes, current time, 88 minutes
Newcastle, HS2 time 49 minutes, current time, 148 minutes
Glasgow, HS2 time 200 minutes, current time, 256 minutes
Interchange Station will not only offer the opportunity to provide high speed rail services to Birmingham and the wider West Midlands region. It will also catalyse economic growth in the area immediately adjacent to Birmingham Airport and the NEC, known as UK Central Hub.
Through the design of the station and an evolving masterplan, HS2 will play a vital role, along with key local stakeholders including the Urban Growth Company (on behalf of Solihull Council), the West Midlands Combined Authority and others, in creating a new growth area around the high speed rail station.
Interchange Station will be the best-connected place in the UK by rail, road and air with customers able to reach London Euston in just 38 minutes.
It will also connect to the city centres of Birmingham, Leeds, Liverpool and Manchester. Around the site, an automated people mover (APM) will move passengers between the new HS2 Interchange Station, the NEC, Birmingham International Station and Birmingham Airport, which offers direct access to over 150 international destinations and a further 490 global connections.
The Interchange Station itself will be made up of two 415 metre long island platforms, offering 4 platform faces, as well as 2 central high speed through lines for non-stopping services. In addition to the APM, the station will be fully integrated with other local buses, taxis and private vehicle options.  New rapid-transit 'Sprint' buses and Metro trams will also connect to the HS2 Interchange Station.
A Growth and Infrastructure Plan for The Hub area has been developed by the Urban Growth Company, with the HS2 Interchange Station at its heart. This outlines the opportunity to create up to 77,500 new jobs, 66,000 square metres of new commercial space and 2,000 homes, adding £4.1 billion to the economy each year.
Read the press release about the design vision for new stations in Birmingham and Solihull.
Visit our dedicated community site for the area. There you can learn more about the station design.
Automated People Mover
The people mover will provide a fast and frequent transport connection between HS2's new Interchange Station in Solihull, through to Birmingham Airport in just 6 minutes. When fully operational, the people mover will carry up to 2,100 passengers per hour in each direction.
The approximately 20 metre long people mover vehicles will depart from each stop approximately every 3 minutes. They will pick up passengers from Interchange Station, and then travel 2.3 kilometres across an elevated viaduct stopping at Birmingham International Railway Station, the National Exhibition Centre, before reaching Birmingham Airport.
Read more about the Automated People Mover in our press release.
HS2 is already helping to attract significant investment
It is boosting the region's fast growing economy. Deutsche Bank, Jacobs Engineering and the retail banking arm of HSBC have relocated to the city with PwC significantly expanding its presence. Inward investment has created more jobs in the West Midlands than any other region outside London. The West Midlands Combined Authority HS2 Growth Strategy has the potential to add £14 billion to the regional economy and support 100,000 jobs. HS2 is working with Birmingham City Council, Solihull Council, West Midlands Combined Authority and regional stakeholders to ensure that the region achieves the full potential of HS2.
448 West Midlands businesses have already worked on HS2
Across the country nearly 2,000 business have also worked on HS2. Over half of these are small and medium sized businesses and that number will grow as the pace of construction increases.