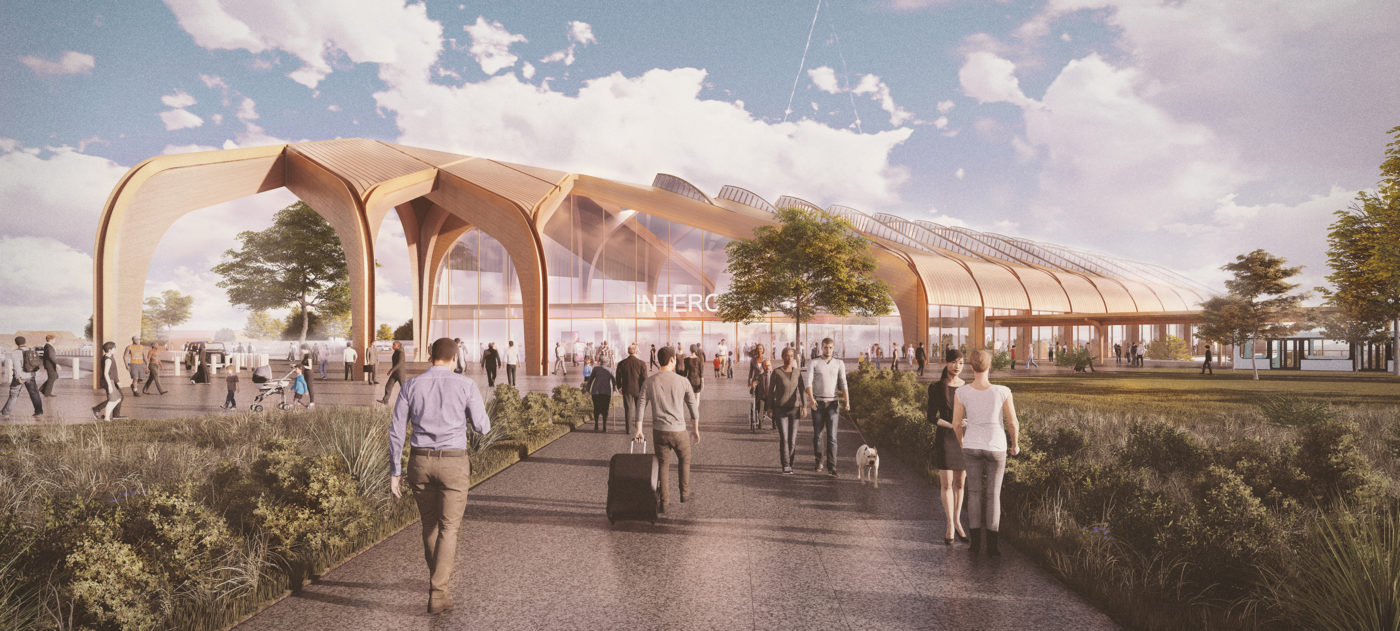 Design aspiration
We aim to enhance the lives of future generations of people in Britain by designing a transformational rail system that is admired around the world.
The HS2 design vision sets out three core principles: people, place and time. Scroll to learn more about each of these.
The independent Design Panel will use the framework of the design vision to advise and hold to account HS2 Ltd's leadership, project teams and partners. It will help them to make the right design choices. Find out who is a member of the independent Design Panel and more about its work.
Design for everyone to benefit and enjoy
HS2 is for all of us who live and work in the UK and for those who visit too. It is paid for by the taxpayer and must be designed to deliver planned social and economic benefits. This principle requires that we consider audience, engagement and talent.
We will know we are successful in designing for people when HS2:
Works intuitively and effectively for all our audiences
Engages successfully with communities affected by the project
Works with the best design talent in a truly collaborative way
Designing for the needs of our diverse audiences
The scale and complexity of HS2 means it has many audiences. It must serve everyone in the UK by delivering on requirements set by Government and using taxpayers' money wisely. The challenge that is common to each design project is to go the extra distance to identify, understand and respond to the needs of our diverse audiences. We are developing our Design Vision to guide decisions on related priorities, including how we are:
Engagement -Engaging with communities over the life of the project
HS2 is a project that will affect many communities. There are interests to serve at a national, regional and local level. Designing HS2 is all about meeting social and economic aspiration and opportunity. Where a particular impact is unwanted, design is there to find the best solution. In order to respond effectively to community concern and need, it is important to have strong design engagement. We are developing our Design Vision to guide engagement with our audiences, including:
Community
Public
Business
Design outreach
Civic
Talent – Inspiring excellence through creative talent
HS2 is seeking high levels of creativity and ingenuity in order to achieve the best possible design results. Investing in creative talent and creating the right environment for interdisciplinary teamwork to flourish will be essential prerequisites for the success of each design scheme. The scale of HS2 will also help to develop the skills of the next generation of designers and engineers in Britain. We are developing our Design Vision to guide decisions on related priorities, including:
Procurement
Teamwork
Education
International
HS2 will expand our choice of where to live, work and visit by connecting our cities with ease and speed. To do this we are creating many new places and spaces, such as stations, terminals and train environments, as well as restoring and growing natural environments. This principle requires that we consider regeneration, identity and environment. We will know we are successful in designing for place when:
HS2 design supports wider regeneration and connectivity to improve quality of life
Local projects reflect their context but contribute to HS2's overall identity
All schemes, large and small, meet rigorous environmental standards
Designing places and spaces that support quality of life
Each place and space, designed as part of HS2, is an opportunity to achieve the wider benefits that the UK government is seeking to achieve. Each project is part of a bigger picture that is all about successfully regenerating areas and communities by creating great places to live, work and visit. We are developing our Design Vision to guide decisions on related priorities, including:
Connectivity
Well-being
Public value
Identity – Celebrating the local within a coherent national narrative
Each place and space that is created as part of the system will contribute to HS2's own identity. The design challenge will be to develop a coherent approach, establishing uniformity where it is essential while encouraging one-off expression based on local context where appropriate. HS2 seeks to enhance national and civic pride, while also supporting its own brand to support its operational and commercial objectives. It will therefore include many local design stories within one compelling national narrative. We are developing our Design Vision to guide decisions on related priorities, including:
Visual language
Brand
Heritage
Environment – Demonstrating commitment to the natural world
HS2 has a positive environmental rationale – that high-speed rail is the most efficient way to transport people between cities. Building and maintaining the network will nevertheless create adverse environmental impacts. HS2 will use design to help deliver imaginative, appropriate and environmentally sensitive solutions. We are developing our Design Vision to guide decisions on related priorities, including:
HS2 is committed to delivering on time and on budget and without compromise to quality and robustness. But the project will not stop at the end of the line. Everything that is designed today must be built to endure and evolve over future generations. This principle requires that we consider adaptability, experience and creativity. We will know we are successful in designing for time when:
The system can be adapted to future needs
The experience demonstrates to customers how their time has been valued
The time to design has been productive and has delivered the aspiration
Adaptability – Designing to adapt for future generations
HS2 must be designed and built to last. The system will need to evolve over time in order to meet society's changing needs and take advantage of new technologies. It is important that we make room for technologies that have not yet been invented. Design decisions should help optimise the value of taxpayers' investment over the short- and long-term. We are developing our Design Vision to guide decisions on related priorities, including:
Future-proofing
Whole life costs
Experience – Placing a premium on the personal time of customers High-speed travel radically reduces journey times for people seeking to move between UK cities. But this is only the starting point for the value that HS2 places on the personal time of each individual who uses the system. Each design decision is an opportunity to enhance that experience – and make it more productive. We are developing our Design Vision to guide decisions on related priorities, including:
Interchange
User experience
Creativity 9 Making the most of time to design HS2 is operating to a rigorous programme of planning and delivery. One essential part of that process is design. That means both a commitment to providing talented people with the time to design and also being effective with the time available to design. HS2 looks to its design leadership to champion design within the decision-making process and for all its design teams collectively to create a productive design. We are developing our Design Vision to guide decisions on related priorities, including:
Design thinking
Leadership
Creative culture
What design success looks like:
Everything we make works intuitively and well for all our audiences
And contributes to one seamless and enjoyable experience
We deliver above and beyond the design brief
Bringing benefits of many kinds to UK citizens
All the elements are fit for purpose and sensitive to their context
National pride in the system is matched by a sense of local ownership
Small elements and big schemes meet rigorous environmental standards
And, collectively, add to our cultural and natural heritage
Every requirement for a high-speed rail system is met
And we have designed in the needs of the future too
We have joined up the nation with a system to last and evolve
And created a national project to be proud of for many years to come